Circular Knitting with Two Circular Needles
Small circular knitting with two circular needles.


Introduction
The circular needle is very comfortable when you knit the circular fabric. However, with only one circular needle, you can not knit the smaller fabric than the length of the circular needle. Once, if you had wanted to produce the small circular fabric, you would have to use double-pointed-needles. Now, the clever two-circular-needle knitting have been invented. It's not require the other skills than those of one circular needle. This method is easy to understand and avoid the ladders which tend to appear the changing place of the DPNs.
Casting On(Cross-Over-Join method)
(1)
(2)
(3)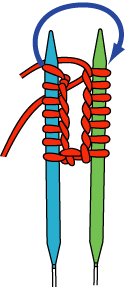 Cast on with one circular needle. Divide the stitches into the two circular needles. Place the needles as shown, beginning stitch on the left needle(blue), ending stitch on the right(green). Keep all the casted on loops outside. Watch out the joint never twisted. Move the beginning stitch to the right needle as shown.
Move the ending stitch to the left needle OVER the beginning stitch now on the right.
Two stitches are crossed and all the cast-on stitches makes a loop. Pull the right needle as shown the arrow to move the stitches on the string part of the cirular needle.
Begin to Knit
Hold the left needle with your left hand and the needle part of the opposite side of the same needle(blue) with your right hand as shown. After you knit all the stitches, you move the stitches on the string part of the circular needle(blue). And move the stitches on the right(green) needles to the needle part. Continue as the same with the right(green) needle. In sum, work the needles alternately. When you work with the needle, the other needle is rested holding the stitches on the string part.
Two circular needles must be the same in size, but the lengths can vary. We like to use two 60cm circular needles.
---
Copyright© 2001-2002 Tata&Tatao.