Cushion Cover with Heart Pattern & Seed-stitch
Knitting Instructions of Cushion Cover with Heart Pattern & Seed-stitch


About the cushion cover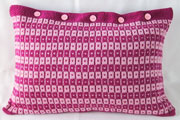 This cushion cover is made of the pattern looks almost stripe. One opposite color stitch is remained the center of the pattern, and this looks a little heart figure. This is the reason we named it as 'Thousand Hearts'. This can be the very gift for Saint Valentine's Day.
This project is a good practice of stranding color works. This patten is so easy that you hardly make mistakes. The circular knitting avoids purling and you always check the pattern while you are knitting.
This yarn makes the fabric thicker, so you must make it bigger than the cushion cover made of thin cloth.

Materials

Brand
Debbie Bliss
Yarn Name
Merino DK
Material
Merino Wool 100%
Weight/Length
50g 110m
Color Number
205(Blue)
200(Sky Blue)
101(Cream)
Total Weight
205(110g)
200(35g)
101(35g)
The yarns are Merino DK of Debbie Bliss. This yarn's properties are soft in touch, and mild in color. They make the cushion cover cushiony and bright. This simple pattern doesn't choose the color of the yarns strictly, it is easy to make a color combination with your surplus yarns.

Needle & Gauge
Needles: US #5/UK #8(4mm) 4-DPNs.
Gauge: 25 stitches and 27 rounds / 10cm(4 inches).
Etc.
5 buttons. (18mm)
Graphic Chart & Instruction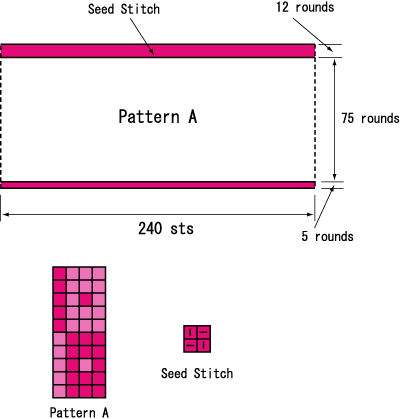 Work circular from the bottom to the top of the figure. Work stocking stitch first 5 rows, then begin to work the color pattern. After working required height, decrease 1 stitch and work 12 rows with seed stitch. Cast off. Sew bottom. Place buttons. Make button holes with a tip of needle.
---
Copyright© 2002 Tata&Tatao. All rights reserved.