Openwork Scarf
Thin mohair scarlf with openwork


About this scarf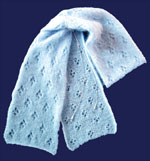 This scarf is made of lace-waight mohair yarn. Lightness and Softness are the characteristics of mohair yarn. Light mohair scarves are usefull in the early spring or fall. They are not bulky in your bag.
The stitches are very simple openwork. Both side have the distinctive taste.

Yarn

Yarnmaker
Dia(Japanese yarn)
Yarn name
Diatrophymohair
Material
Mohair 90%
Nylon 10%
Weight/Length
25g 110m
Color #
TM502(blue)
Amount
35g〜40g(2 balls)
This yarn is Japanese mohair yarn. Some mohair yarn are scratchy. You had better to take care of chooseing yarn.

Needle
US #7/UK #7(4.5mm)
Text Pattern

Row  1: Cast on 30 sts.
Row  2: Purl.
Row  3: Knit.
Row  4: Purl.
Row  5: K4, *yo,ssk,k8; rep * ,yo, ssk, k4.
Row  6: Purl.
Row  7: K2, *k2 tog,yo,k,yo,ssk,k5; rep *, k2 tog,yo,k,yo,ssk,k3.
Row  8: Purl.
Row  9: Same as Row 5.
Row 10: Purl.
Row 11: Knit.
Row 12: Purl.
Row 13: K9, yo, ssk,k8,yo,ssk,k9.
Row 14: Purl.
Row 15: K7, *k2 tog,yo,k,yo,ssk*,k5,rep * to *, k8.
Row 16: Purl.
Row 17: Same as Row 13.
Row 18: Purl.

Rep Row 3 to 18 until desired length.
Work 4 rows st st.
Cast off.


Graphic Chart Pattern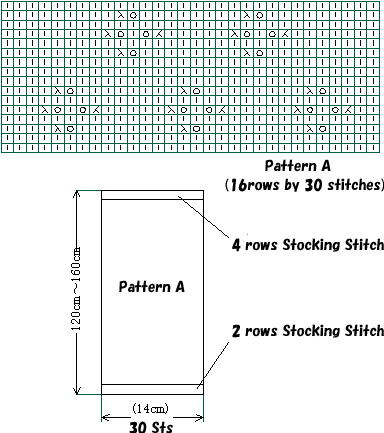 ---
Copyright© 2001-2002 Tata&Tatao. All rights reserved.