How to knit a pair of Sanquhar gloves
The Instructions of knitting a pair Sanquhar gloves
About this glove
This instruction is depend on our research on a pair of original Sanquhar glove and a picture on Dumfries & Galloway Museums. We are not sure this is the traditional way of knitting it. If you have further information, please let us know.
Materials
| | |
| --- | --- |
| Yarn | Lace Weight(170-190m/25g) Black 10g /White 10g |
| Needle | English-Size #000 (1.5mm) DPNs |
| Gauge | 56sts and 62rows/10cm(4inches) |
| Garment Size | length 21.5cm(8.5") / palm round 17.5cm(7") (Japanese women size) |
A Perfect Example
This is an original glove which was knitted by a knitter in Sanquhar. This is one of the best knitted glove ever seen. It's quite even and accurate. An incredible work it is!
Full Chart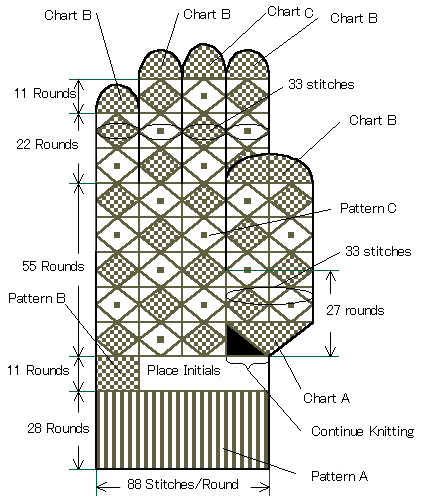 Part Charts
Chart A


Chart B



Chart C



Chart D


Patterns
Pattern A
2 Sts / 1 Rows


Pattern B
2 Sts / 11 Rows


Pattern C
22 Sts / 22 Rows


7-row-alphabet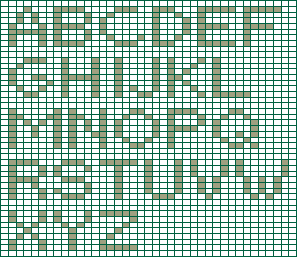 Knitting Instruction
With black yarn,cast on 88 sts. Round 1: *K2 with black,p2 with white; rep * to end. Round 2-28: Same as round 1. Round29,30: Work st st with black. Round31-39: Work check pattern with white and black or knit your initials here. Round40-51: Work Pattern-C while working Chart-A at the beginning of the round. Round52-68: Work Pattern-C. Rest the stitches on holders except 22-gusset-sts increased from Chart-A. Break off. Cast on 11 sts with black yarn. Make a 33-sts round with 22-gusset-sts. Work thumb-part with Pattern-C. (quod vide Full Chart.) Round 69-94: Back rested sts to needles. Work Patten-C. Pick up 11 sts from cast on sts for thumb. Round 95:Work st st with black.(As a part of Patten-C.) Rest the sts on holders without 33sts for index finger. While working Pattern-C, Cast on 9 sts between foreside and backside. 42 sts. Work Chart-D on the 9 sts. 33 sts. (Chart-D begins from 11 sts. Both edge sts are not cast on sts, of course.) It makes a gusset between forefinger and middle finger. Work Patten-C. (quod vide Full Chart.) Back 22 sts on needles from holders as the both side of middle finger. Pick up 11 sts along the edge of the guggest of forefinger, and cast on 9 sts opposite part, while working Pattern-C. Work same as forefinger. Ring Finger: Work same as forefinger. Little Finger: Work almost same as forefinger without casting on.
---
Copyright© 2001-2002 Tata&Tatao.

---
Home