The Basics of Japanese Knitting
The ABCs of Japanese Knitting Pattern


Japanese Knitting Basics
If you have an interest in Japanese knitting, you might be frustrated by the lack of information on it in English. We sought it on the Internet in a few days and found only few information, as if there is nobody who have an interest in Japanese knitting out of Japan. Now, We fix up our mind to describe Japanese knitting. We hope that our poor English text make sense and you get the very information on Japanese knitting. If you have some suggestions or questions on our topic, feel free to contact us.
1. Measurement
Only cm (m or mm) is used as measurement. Using another measurements(including inch, yard) are against the law in Japan.
2. Numerals
Almost always Arabic numerals are used. But occasionally Kanji numerals are used. The table below shows the all of Kanji numerals used in knitting patterns.

3. Needles
Japanese needle sizes are different from another countries. We have made a conversion chart below. Over #15 needle, mm notations are used instead of the needle numbers. So, don't confuse #7-needle with 7mm-needle, they are very different sizes.
There are several materials of needle, however, the best is bamboo. We love bamboo knitting needles even they are the most expensive.
4. Yarn
Japanese mainly knit wool yarn in the cold seasons. A few knitters knit in summer with cotton or linen yarn.
4.1 Thickness of yarn
There are seven notations of the thickness of yarn in Japan. They are basically depend on the standard wool yarns. In Japan, 50g ball is the most popular unit of the yarn.

4.2 Material of yarn
We pick up the words for the representations of the materials of yarn. We think they are very familiar on the labels of the Japanese yarn or the Japanese knitting books.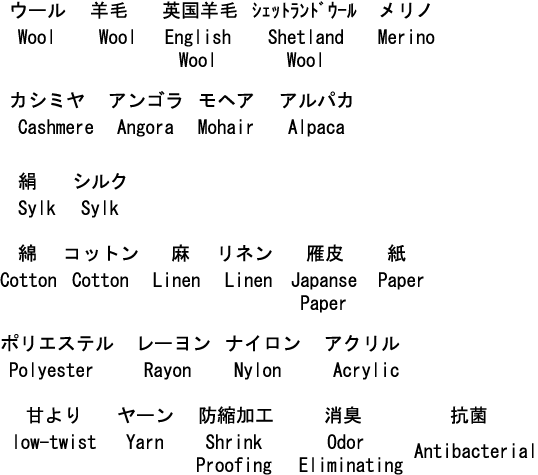 ---
Copyright© 2001 Tata&Tatao.