The First Socks
The First Socks -- Easy to knit, Comfortable to Put on.


2 An Overview of the Project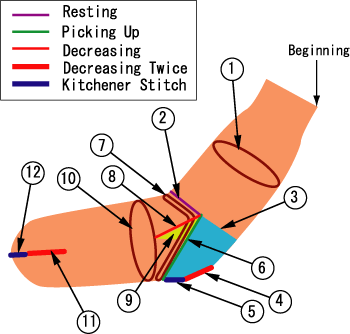 (1) Circular knitting
Work calf to toe. Start at the back of calf. Rib at the beginning and change to stocking stitch.
(2) Divide the stitches
When you have finished at the beginning of heel, divide the stitches into half, and hold the instep side half stitches on a holder.
(3) Back and forth Knitting
Knit back and forth to make a heel.
(4) Decreasing
At the bottom half of a heel, decrease the stitches to make a heel shaping.
(5) Kitchener stitch
Sew the bottom of the heel with Kitchener Stitch.
(6) Picking up stitches
Pick up stitches along the sides of the heel fabric.
(7) Circular knitting
Start circular knitting with picking up stitches and the stitches rested on a holder.
(8) Decreasing
While working around, decrease at the both ankle position.
(9) Gussets shaping
The gussets are formed after the decreasing.
(10) Circular knitting
Restart circular knitting with same stitches as (1).
(11) Toe shaping
Decrease both sides of toe and make it thin.
(12) Kitchener stitch
Kitchener stitch at the toe. You make it up!
---