The First Socks
The First Socks -- Easy to knit, Comfortable to Put on.


(In the following descriptions, Red text means women's number, and(Blue text)means men's number)
4 Full illustrated instructions(Casting on to Heel Shaping)
(1) Circular knitting
With thin needles, cast on 44 stitches(52 Stitches). Any casting-on-method will do. (The double casting on method is described here) Make the stitches round, begin k1-p1 ribbing. (About Circular knitting(Japanese))
Work k1-p1 ribbing16 rounds(20 rounds). Change the needles to thick needles. Work stocking stitch34 rounds(42 rounds).
(2) Keep the stitches for instep on a holder
Divide the stitches as shown. If you have worked with a circular needle(or two circular needles), change it(them) to straight needles here. The left 1/4 stitches of the beginning onto a double pointed needle and the right 1/4 stitches onto another double pointed needle. Move the remaining half stitches onto a yarn holder or on a short extra yarn(recommended).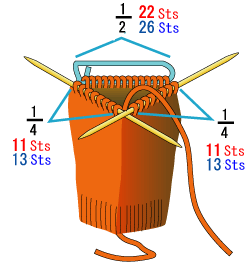 (3) Knitting back and forth
With two double pointed needles, knit back and forth to shape heel. When you knit the stocking stitch with circular method, you always knit. However, if you knit the stocking stitch with back and forth, you have to knit and purl every alternate rows.
| | |
| --- | --- |
| | |
| For women | For men |
The above charts show the heel shaping. The gray masking out portion means the area which does not exists on the fabric. Ignore the area while reading the chart and work continuously from left to right and right to left. The picture below shows the representation of the chart and real fabric.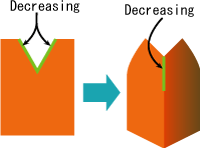 Thus, the decreasing line fold the fabric itself and make it three dimensional naturally. The chart has no choice to cut off along the decreasing line to represent on the surface.
At the beginning of working back and forth, it is suggested that the half of the first rows(yellow painted) are already knitted.
(4) Decreasing of the heel
| | | |
| --- | --- | --- |
| 1 | | At 9th row(11th row), knit 9 stitches(11 stitches). Then knit next two stitches together.(K2 tog) |
| 2 | | Slip next stitch from the left needle to the right needle inserting the right needle from in from of the right loop. |
| 3 | | Knit on the next stitch. |
| 4 | | The slipped stitch pass over the knit stitch. |
| 5 | | You have done SKPO(Slip-Knit-PassOver). Following the chart, decrease in the same way at the right side(the side you work knit stitches). Work straight on the wrong side. |
If you decrease this way, two stitches run straight as the picture below.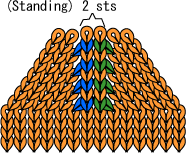 In Japanese knitting term, this is the method of decreasing called "Standing two stitches". You can decrease SKPO first and K2-tog next. This method stands no stitch.
---